Post by oleschoolaggie on Aug 10, 2019 14:19:27 GMT -5
www.greensboro.com/sports/college/ncat/fifth-year-senior-kylil-carter-finally-gets-shot-as-a/article_63fb04a2-4024-5520-9114-bf81b9a034fa.html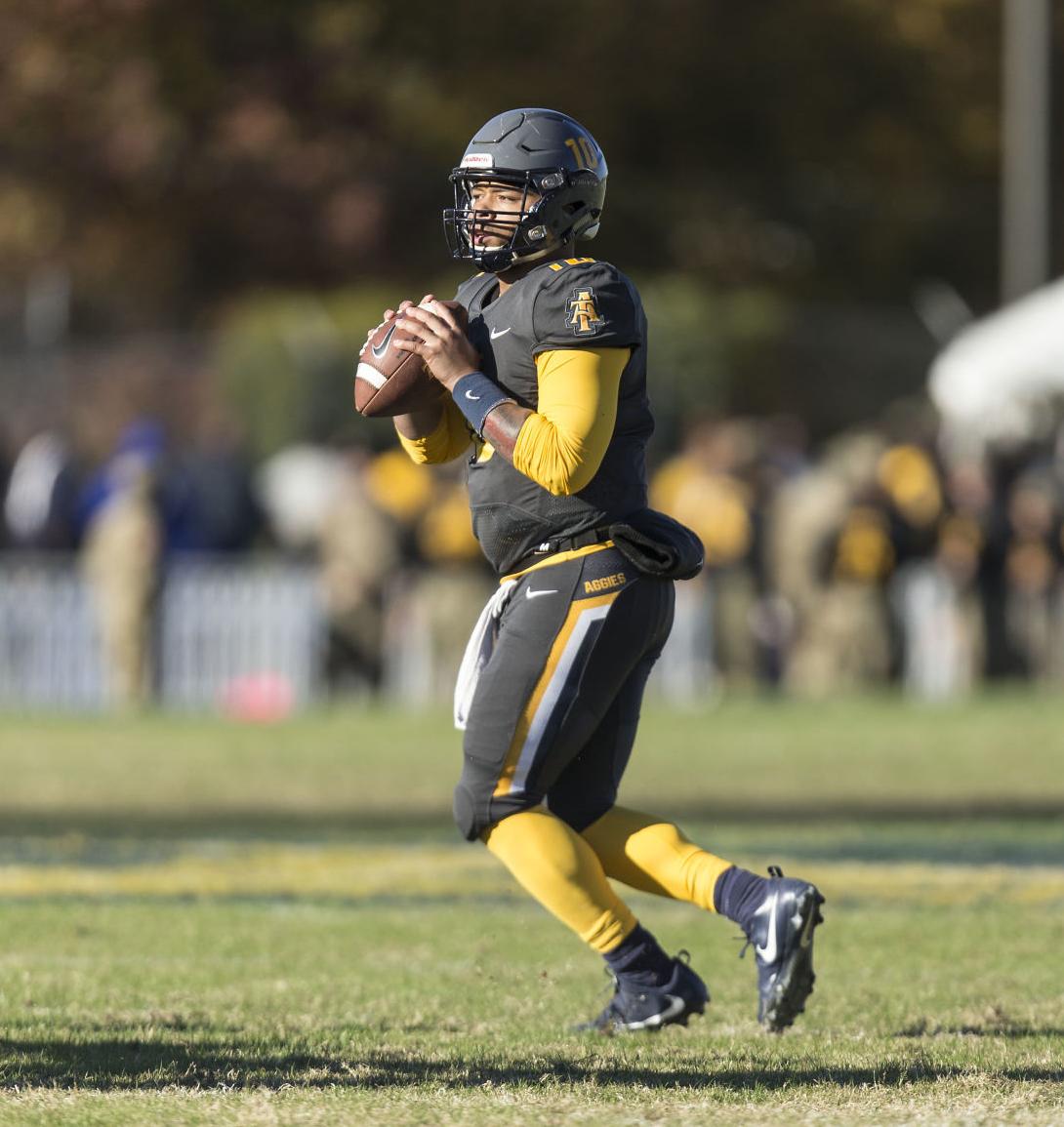 Kylil Carter finally gets shot as A&T's top quarterback

By Jeff Mills jeff.mills@greensboro.com 7 hrs ago
GREENSBORO — He's waited. And waited. And waited, and waited again.
And now, at last, it's Kylil Carter's time.
N.C. A&T's redshirt senior quarterback heads into this season No. 1 on the depth chart for the first time in his career.
It's a job he's proven he can do, beginning on a Saturday afternoon in Orangeburg late in the 2015 season, when he came off the bench late in the third quarter and rallied the Aggies to a 9-6 victory in his debut.
Carter threw a 17-yard game-winning touchdown pass to Khris Gardin with 1:39 left in fourth quarter that day. The future looked bright.
But he tore up his knee in the second game of the 2016 season, taking a medical redshirt. While he was gone, Lamar Raynard became The Man.
The next two seasons, Carter was the best backup quarterback in the MEAC while his close friend Raynard rewrote the Aggies' record book.
"Waiting taught me a lot," Carter says at the end of the first week of practice. "I sat back and watched, and I learned the game from a different point of view. I know so much more about the game. Now that I'm out here, I'm trying to make it easier for my guys.
"My mental game is so much more than it was when I got here. I was sitting behind Lamar, a great quarterback, and I got to watch his positives and his negatives. I learned from all of it."
But Carter is not inheriting the job. He has earned it.
A stocky, muscular, 5-foot-10, 230-pound quarterback, Carter is not the pure pocket passer that Raynard was. The Aggies would insert Carter as a change-of-pace player, taking advantage of his tough running ability and surprising defenses when he would set his feet and throw.
In 24 games, Carter has completed 82-of-150 passes (54.7 percent) for 853 yards, 12 touchdowns and only one interception.
Last season, he was the Aggies' third-leading rusher behind All-MEAC running backs Marquell Cartwright and now-starter Jah-Maine Martin.
And it was Carter who led A&T's comeback from a 20-14 deficit at East Carolina. After a defender stepped on Raynard's throwing hand, Carter came into the game in the fourth quarter and threw touchdown passes to Zach Leslie and Elijah Bell for a 28-23 victory.
"He's played in a lot of big games and helped us win big games ever since his freshman year," A&T offensive coordinator Chris Barnette says. "The other kids really respect him and rally to him. … Lamar and Kylil have different skillsets, yes, but our offense is our offense. It's based on taking what the defense gives us. Kylil brings another element with his legs and his ability to run. But he's also really accurate with the football. I trust him running the same offense we ran last year."
Finding targets shouldn't be a problem.
The Aggies are loaded with receivers, a group led by returning All-MEAC starters Bell and Leslie, as well as senior speedster Ron Hunt.
Junior wideout Ahmed Bah and slot receivers Korey Banks and JaMichael Baldwin figure to be more involved, too, especially if the mobile Carter can extend plays with his legs.
"I'm a dual-threat guy," Carter says. "I've got a great receiving corps that can run around with me. It's my job to get them the ball and make it easy for them. It's a lot of weapons out there, and I'm going to try to use them all. I'll try to keep them all happy. … They always come back (to the huddle) and say they were open, even when they're not."
That last sentence reveals a lot about Carter. One interception in 150 passes isn't an accident, A&T's coaches say. Instead it speaks volumes about Carter's mind.
"His understanding of the offense is why he's out there and the No. 1 reason why he'll succeed," Barnette says. "He understands how to progress his eyes. He's gotten better and better with his decision-making. When a play's not there, he'll take the check-down. And when the check-down's not there, he can take off and run. Mentally, he's the best he's ever been right now."
Carter missed the Celebration Bowl last season, watching from the sidelines with a broken leg suffered in a car accident. Even then, Carter says, there was never a doubt he would make a full recovery, at least in his mind.
Because he knew the season to come was his time.
"It's very difficult to replace a player of Lamar Raynard's caliber," A&T head coach Sam Washington says. "But this year it seems a little easier than it normally would, just because Kylil is experienced. Those two guys are good friends. And because of their relationship and their involvement, they made each other better. Lamar was the guy, but Kylil played a lot of football, too. He did a yeoman's job as the backup. Now it's his turn to have the reins in his hands."
N.C. A&T quarterback Kylil Carter's career statistics:
Passing
Year: G Comp-Att-Int, Pct., Yards, TD
2018: 11 42-75-0, 56.0, 397, 5
2017: 7 5-9-0, 55.6, 79, 1
2016: 2 13-20-0, 65.0, 133, 2
2015: 4 22-46-1, 47.8, 244, 4
Total: 24 82-150-1, 54.7, 853, 12
Rushing
Year: No-Yds (Avg), TD
2018: 59-263 (4.5), 1
2017: 21-85 (4.0), 0
2016: 14-30 (2.1), 0
2015: 43-146 (3.4), 1
Total: 137-524 (3.8), 2