Post by durhamgsoaggie on Apr 26, 2018 10:25:05 GMT -5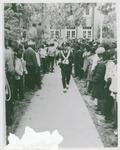 heck, i wasn't really looking at his stomach. i was looking more so at his shoulders, arms, and forearms. i expected to see a little more definition than that.
but the stomach is important too. your stomach "transfers" power from your legs to your upper body. if your stomach is as soft as a "sponge", very little power (if any) is transferred from the lower body to the upper body. but if the stomach is "rock hard" (like a 6 pack), the power from your lower body is easily transferred to your upper body whenever you use your legs.
for example, when you run block, you need to "drive" the defender where you want him to go. you use your legs to give you the power to "drive" a defender left, right, or backwards and the power from your legs will transfer power to your upper body "if" your stomach is strong. if not, you don't get nearly as much power transfer from your legs...
Looking at most of the athletic OLs in the league, they aren't super defined physically because they aren't carrying permanent weight. Seeing guys like Jordan Gross, Jeff Saturday and Nick Hardwick make undergo significant weight loss after their playing days is an example of that. And none of those guys were rock hard physiques by any stretch.
Most men lose muscle mass as they get older. But creating too much muscle mass can make it harder for some body types to lose it down the line. You see some guys lose the weight... and some guys gain too much after their playing days are over. It's pretty clear that Brandon is the former. I just want to see his nutrition pattern continue to be such that he stays that way once his playing days are over and can drop the unnecessary weight when it's time. But that has to be part of the game plan from the start.
"Begin with the end in mind."